This post is also available in: French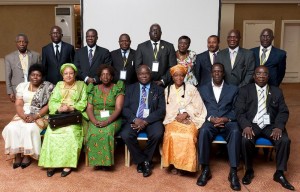 2013 High-Level Ministerial Meeting (HLMM) at the International Family Planning Conference
On November 12, 2013, African government Ministers, high-level policymakers and distinguished guests will meet to discuss promising avenues for investing in the health and well-being of young people under the theme: "The Youth Dividend: Return on Investment in Family Planning."
The day-long meeting will focus on the potential of such investments, particularly in family planning, to benefit young people now and to accelerate economic growth and development. Population dynamics in many African countries present challenges to meeting the needs of children and young people as they come of age and seek to apply skills acquired through schooling, join the labor force, form families and participate in society. Policymakers across Africa are taking action to set economic, education and health policies for youth that support their ability to improve their own prospects for health, well-being and financial security and contribute to poverty reduction in the long term. The meeting provides the opportunity for African leaders to learn from one another and to make clear their commitment to meeting the needs of young people in their countries.
The High-Level Ministerial Meeting (HLMM) will be a closed session and attendance is by invitation only. Participants will include high-level policymakers, including Ministers of Health, Finance, Gender and Youth, members of parliament, experts, and representatives from the donor and NGO community.
The high-level meeting is being organized on behalf of the Federal Democratic Republic of Ethiopia by the Bill & Melinda Gates Institute for Population and Reproductive Health at the Johns Hopkins Bloomberg School of Public Health and the Advance Family Planning initiative. Supporting and collaborating organizations include the United Nations Population Fund (UNFPA), the US Agency for International Development (USAID), the Bill & Melinda Gates Foundation,  the William and Flora Hewlett Foundation, the David and Lucile Packard Foundation, the United Nations Foundation, the UK Department for International Development (DFID), the World Health Organization (WHO), International Planned Parenthood Federation (IPPF), Partners in Population and Development Africa Regional Office (PPD ARO), Futures Group, Center for Communication Programs (CCP), Population Reference Bureau (PRB), and Population Action International (PAI).
Download a background brief on the High-Level Ministerial Meeting (HLMM)
Please send any queries about the High-level Ministerial Meeting to hlm@fpconference2013.org.
High-Level Ministerial Meeting Application: Call for Distinguished Guests
Due September 30, 2013
At the 2011 High-Level Ministerial Meeting (HLMM) in Dakar, there was significant interest in observing the proceedings from representatives of the NGO community.  We anticipate an increased level of interest in observing the 2013 HLMM, which is being organized under the theme "The Youth Dividend: Return on Investment in Family Planning." The objective of the HLMM is increased understanding of and action by African leaders related to the benefits of country investment in family planning to realize benefits for young people now and, in the longer term, a demographic dividend for their country's economic growth and development.
The 2013 HLMM will be held at the African Union Conference Center, Addis Ababa, Ethiopia, on 12 November 2013 from 9:00 AM to 3:30 PM. The 2013 HLMM will bring together 35-50 policymakers, including Ministers of Finance and Planning, Health, and Youth, members of parliament and experts from within sub-Saharan Africa. The meeting will also involve a small number of distinguished guests, including members of the donor community and selected dignitaries and nongovernmental participants. Attendance will be by invitation only.
To ensure that the proceedings flow smoothly and are not interrupted by the movement of observers coming in and out of the room, space for distinguished guests representing non-governmental organizations (NGOs) at the 2013 HLMM will be limited; only one representative per organization will be able to attend.  Because seats are limited, and in order to ensure transparency in selection, there will be an application process to attain one of these seats. The application criteria are as follows:
To ensure that observer participation is as representative as possible, efforts will be made to ensure there is a reasonable balance between distinguished guests from both Northern and Southern NGOs. Youth observers are also eligible and encouraged to apply.
Priority will be given to individuals who are best positioned to follow up on discussions and decisions made during the HLMM, and take action forward. Applicants will be asked to indicate why they are well placed to act on the outcomes of the meeting within the application. The HLMM Steering Committee will review applications and determine those individuals who will be invited to participate as a distinguished guest.  As a point of information, High-Level Ministerial Meeting Steering Group members, donors and other governmental dignitaries will not be required to apply.