This post is also available in: French
The 2013 International Conference on Family Planning featured two options for roundtable discussions during each lunch session of the conference: Topical Roundtables and CEO Roundtables for Emerging Leaders. Hosted by conference partners, roundtables facilitated dialogue and networking among groups of 8-10 participants sharing common interests related to family planning and the overall conference theme, Full Access, Full Choice.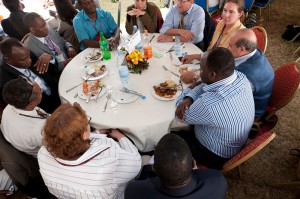 Topical Roundtables expanded the coverage of topics during the conference. Thank you to all organizations who hosted a Topical Roundtable.
CEOs Roundtables for Emerging Leaders provided the opportunity for mid-career professionals to interact with leaders in the field, with discussions centered on a topic of the leader's choosing.