This post is also available in: French
As in Dakar in 2011, the 2013 ICFP is planning to feature two options for roundtable discussions during each lunch session of the conference (November 13, 14, and 15). The lunch roundtables were a great success in 2011, as they provided continued discussion and coverage of additional topics. Hosted by conference partners, roundtables are intended to facilitate dialogue and networking among groups of 8-10 participants sharing common interests related to family planning and the overall theme, Full Access, Full Choice.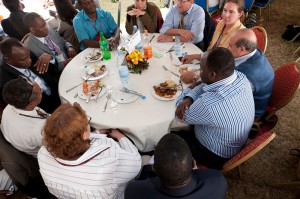 Topical Roundtables are designed to expand the coverage of topics during the conference. Seating at the Topical Roundtables is "first come, first served" – there is no application process or pre-conference sign-up for participants. Thank you to all organizations who will be hosting a Topical Roundtable. A list of all Topical Roundtables will be printed in the conference program, and there will be a poster displayed at lunch with table numbers and topics.
CEOs for Emerging Leaders Roundtables provide the opportunity for mid-career professionals to interact with leaders in the field, with discussions centered on a topic of the leader's choosing. Sign-up to sit with a dynamic leader in the field of reproductive health and family planning. Only mid-career professionals and youth are eligible. Applications will be accepted through September 30th.
If you have questions please email [email protected].