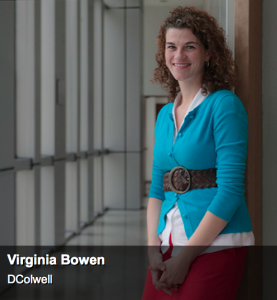 Ghanaian women's dislike of contraceptives, especially hormonal ones, has been well documented and could be an important factor behind the decline in contraceptive use in this sub-Saharan country. Understanding the reasons for this aversion could help family planning advocates tailor their messages, says Lt. Virginia Bowen of the United States Public Health Service, an Epidemic Intelligence Service Officer with the CDC who in 2013 earned a PhD and in 2008 an MHS from the Johns Hopkins Bloomberg School of Public Health. Bowen presented research November 14 at the International Conference on Family Planning.
To learn why Ghanaians often shun contraceptives and whether demographics play a role, Bowen and colleagues asked 259 women getting care at an antenatal/postnatal clinic in Accra, the capital, to listen to one of two tales about fictitious women for whom having a baby would be a stigma:  a young, unmarried high school student; and an older, married woman who already had four children. The participants then played a card game that involved gradually paring down reasons the particular fictitious woman might avoid contraception, leaving only their top three choices.
The volunteer respondents tended to choose very different reasons why the two female characters would avoid contraceptive use. For the young, unmarried woman, the top reason—a fear of later infertility—was chosen three times as often as the next popular choice, which was fear of contraceptive failure. For the older, married woman, three choices tied for first place: a partner's opposition to contraceptive use, a dislike for "unnatural methods" and a fear of infertility.
The scope of concern over infertility surprised Bowen and her colleagues. "If this fear was so salient with our group," Bowen says, "why aren't we putting educational messages on billboards or seeing it dispelled everywhere we turn in the family planning sector?"—Christen Brownlee